CADILLAC PATHWAY
WINTER SPORTS TRAIL ETIQUETTE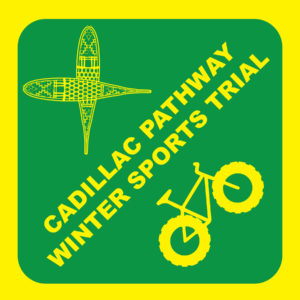 Trail system is open ONLY from December 1st to April 1st with 6 or more inches of snow on the ground. After April 1st PLEASE DO NOT USE the Winter Sports Trail.
ALL users are allowed on the Winter Sports Trail.
(Walkers, Runners, Snow Shoes, Fat Bikes, Pets, Skiers, etc…).
2. Please use the Winter Sports Trail only if there are 6 or more inches of snow on the ground.
3. PLEASE do NOT ride if the temperature is above 30 degrees. Trail is not suitable for riding.
4. Tires must be 3.7" or wider.
5. Tire Pressure should be 4 psi or less.
6. Do not ride/walk/run when conditions are too soft. If you are leaving a rut deeper than an inch, having a hard time riding/walking/running in a straight line, or pushing your bike, the snow is too soft and you should not be riding/walking/running on the trails.
7. The Winter Sports Trail intersects the Cadillac Pathway Cross Country Ski Trail system multiple times. PLEASE refrain from using the cross country trail system unless you are a cross country skier.
8. Be an ambassador for your sport – be polite, educate other users, discourage bad behavior, follow the rules, support grooming, and we will all have a good time this winter.
9. Keep to the right when meeting oncoming traffic.
10. If you are approaching a trail user from behind please announce yourself.
11. The Winter Sports Trail is an out-and-back trail with two-way traffic.
12. Carry out all rubbish.